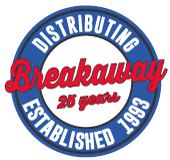 Breakaway Distributing is a proud Canadian company based out of Hamilton Ontario. We employed 30 full time staff prior to the Covid-19 impacts taken on our business. With business and schools closed and events being cancelled, the impact on us has been drastic.

We are still open, although operating at a limited capacity with all office staff working from home, and our production team working on reduced hours with less staff in the building. Our production teams are producing uniforms for front-line grocery store workers, safety wear to those in the construction and security industry. This also includes other needs for custom apparel that arise for the essential businesses that are open and front line services across Canada.

With that being said, we are only offering custom apparel products on regular service levels, but we are only providing shipping as an option to receive your goods. Our pickup counter is closed to keep our building secure for those that are still working. Promotional products such as water bottles and tote bags are on at least a 3 week delay as our up stream wholesalers are closed as these are not deemed essential.

Our customer service team is available by phone and email on revised hours:
Monday to Friday 9:00AM to 5:00PM
Saturday Closed
Sunday Closed

We appreciate your understanding and thank you for your continued loyalty. We hope you are keeping safe in these unprecedented times.